Boxxy Boy [1] is one of the major characters from the PaRappa the Rapper series and is featured in PlayStation All-Stars Battle Royale as one of PaRappa's attacks.
Biography
Edit
Boxxy Boy is a talking stereo player. While seen periodically during the course of PaRappa the Rapper, he has a much more prominent role in PaRappa 2 where he acts as the player's guide during practice segments and versus modes.
Connection with All-StarsEdit
Boxxy Boy appears during PaRappa's intro section and also during some of his attacks. He is used to generate AP points.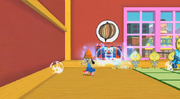 References
Edit