Natalie, known as Natsumi (ナツミ) in Japan and PAL regions and Katie in the PAL version of the first game, is a major character in the Ape Escape franchise and the granddaughter of the Professor. She makes a small cameo in PlayStation All-Stars Battle Royale.
Biography
[
]
Natalie is the Professor's granddaughter. She helps keep the lab in shape and makes sure that the Pipo Monkeys get caught. She is 14 years old in the first game and 16 in later games. She is the inventor of the new Pipo helmet that can let Spike and his friends control the monkeys by placing it on the regular Pipo Helmet. She can be very short tempered, once getting angry at Spike when he didn't rescue her as quickly as she wanted.
Connection with All-Stars

[

]
Natalie appears in the level Time Station, where she and the Professor are watching the action on one of the monitors.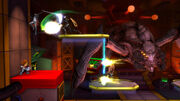 She also appears in two icons that can be selected by reaching Rank 15 and 18 with Spike.
Trivia
[
]
She shares the same Japanese name as Hannah from the Hot Shots Golf series, another non-playable character.